Late Halloween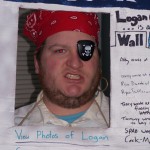 I've been meaning to post these pictures for a long time, but it took me 1.5 months to actually take them. Anyway, this is my Halloween costume. I really wanted to be Jan and Wayne Skylar from Tim and Eric, but no one wanted to be my Jan. So after much thought, it hit me that I should dress up as facebook. That'd be so easy and fun. Just need some cardboard. About two days before Halloween I realized that I should be a facebook profile of a cherished Halloween costume fallback. My first instinct was ghost, vampire, or zombie, but pirate was an easier costume to find, and was ultimately more fun in the end.
So the costume really consists of a huge piece of cardboard painted and written on with permanent marker. The fun part is that the costume is interactive. I folded some flaps back for photos and info. So if someone pushed the info button, I would unfold the middle two flaps and it revealed some more info. If someone hit photos, I poped the top flaps open and I had some pictures of pirates (all images of pirates are from google search and belong to their original owner).
I also brought a permanent marker for people to write on my wall. You can see them all in the pictures. Also, if people wanted to send me a message I had a pad of paper and pen in my pocket for them. Only one person tried it, but I was glad that I had that covered. Finally, if someone poked me, I generally poked back. It was a super fun costume, I might utilize it again seeing as it only got about 3 hours of use. I hope ya'll love it.